Whilst having imposing facial features, the "Daruma" also has an adorable rounded shape that fascinates many people. In Japan, they often make appearances, even at politician's elections etc., and have been highly valued through the ages as lucky charms that fulfill people's wishes. First of all, the beginnings of the Daruma are said to be creating an imitation of the founder of Zen, Bodhidharma, in a Zazen seated meditation position. Bodhidharma was born in India, he later became a priest - he was the 28th generation to take over from the teachings of Buddha, and then he traveled to China. Despite the many difficulties encountered there, the indomitable spirit of Bodhidharma persisted. This captured the hearts of people, and during heavy floods a devotee carved a statue of Bodhidharma, which is currently enshrined at the temple of Shorinzan Darumaji. After the temple opened, to provide relief for farmers hit by famine, the high priest allowed the farmers, as a side job, to make papier mache Daruma (imitations of Bodhidharma) and sell them at festivals, where they quickly caused a sensation.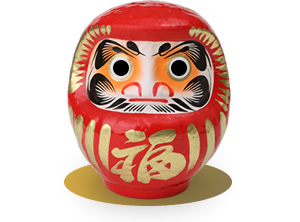 The passed on prayer used nowadays of "make a wish to a Daruma and if you endeavor it will be fulfilled", is derived from silk farmers praying for "silkworms to make good cocoons" whilst filling one eye with ink, and when this prayer is fulfilled the remaining eye is filled in with ink. Because in Japanese the term "get up" is used to refer to the opening up of old silkworn shells, you are praying to the Daruma who stands for the Japanese proverb of "Nanakorobi yaoki"- in English "when life knocks you down, get back up".
These days, Daruma are made in varous regions of Japan but the vast majority of papier-mache Daruma are made in Takasaki, Gunma Prefecture, location of Shorinzan Darumaji Temple, as well as the surrounding area, and are known as "Takasaki Daruma". There are many theories as to why the Daruma are painted red, but it actually derives from the clothing of Bodhidharma. Red also appears to be the color that was used for charms in ancient times. In modern day, apart from red, many other colors of Daruma have appeared, such as white, yellow and green. Not only do they also vary in size, there is also a white version used for weddings, and there are also ones where you can write on the torso. Daruma carefully created at the hands of craftsmen are also useful as a gift.
Daruma go beyond the framework of religion and take root in people's lives. They continue to quietly receive each individual wish and try to make these hopes and dreams come true. The people living in ancient times believed that "even with difficult matters you will be rewarded if you endeavor", and this message is passed on to people living today, through the Daruma.

In the old days, it appears that they were often placed on household shrines, but these days there is no special custom. So, how about placing on top of furniture or other places wear they will catch the eye?