The Japanese people love hot springs. There's not one Japanese person that doesn't get excited at hearing the word "Onsen" (hot spring in Japanese).
You can find many hot springs all throughout Japan. This is because the islands exist on top of a volcano belt. Hot springs have traditionally been worshipped as sacred sites for their beneficial effects. They became popular among the general public in the Edo period when people often went on long stays to take therapeutic baths.

In the present day, many people visit hot springs not just for therapy but also for sightseeing and entertainment. A unique "Onsen Culture" has evolved from the long history of hot springs in Japan, which has recently gained attention from visitors from other countries.
Below are some pointers on the bath etiquette so that you'll be able to fully enjoy your first Onsen.

When visiting a public bath, be sure to greet any guests that are there before you. Especially at many communal baths and therapeutic baths at Onsen areas, local residents and frequent guests often take part in cleaning and maintaining the baths. You should use the bath with appreciation.

In Japan, baths are entered naked, without swimwear or undergarments. If you are uncomfortable with this, use a face towel to cover your private parts. A smart way for the ladies is to cover the breasts on down.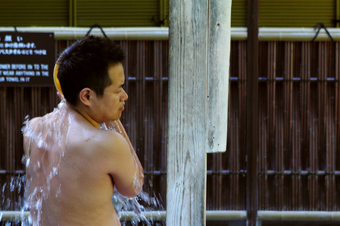 Wash your body and rinse yourself thoroughly before entering the hot water. Scoop some hot water into one of the buckets which are provided and gently pour it over yourself. This process is referred to as "Kakeyu" and is intended to acclimatize your body to the hot water in the Onsen. You aren't violating etiquette if you enter the hot water before you wash yourself with soap, but it is preferable to at least rinse your lower body thoroughly.

Pour hot water over your body while in a crouched position. If you do this while standing, the water may splash on the people around you, or the hot water containing dirt from your body may be splashed around you.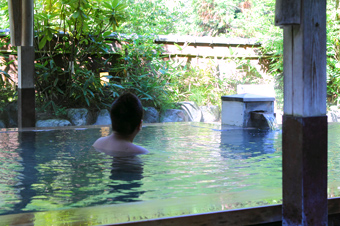 The bath isn't a pool. Take care not to be loud or to swim, as some guests may be there for therapy. But it would be difficult to fully enjoy the Onsen if you are overly nervous about manners and etiquettes. Quietly relax in the water while enjoying the scenery and the fragrance and feel of hot water on your skin.

Towels should not be immersed or dipped into the water, since this can be considered to be unclean as they may have lint and soap residues on them. You may see celebrities on TV or in magazines taking a bath while wrapped in a towel. This is for photography purposes only and is usually not allowed.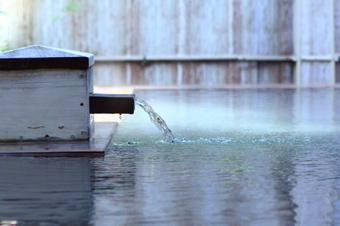 The propoerties of the water are different at each Onsen, and in some cases staying in the hot water for a long time may cause dizziness or nausea. Novice bathers should especially be careful. The people at the Onsen facility may have some good advice on how to take a bath.

Bathing causes your body to sweat. Blood pressure rises as the moisture in the blood is lost, which may raise the risk of stroke and heart attack. It's good to drink a cup of water before entering the bath to stay hydrated.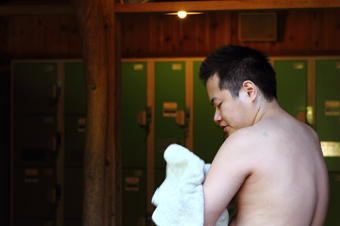 After bathing, make sure you wipe your body with a towel before returning to the changing area. Entering the changing area without wiping will make the floor wet. It's to be considerate of guests who come after you.
■Column - "Sento"
Until about 50 years ago, houses in Japan did not have baths. Many people used communal bath facilities called "Sento." The Sento was not just a place to get clean, but also had a role as a place for communication among neighbors in the community as well as for rejuvenating from the day's work.
Sentos also have a unique culture, as can be seen by the extraordinary atmosphere created by the mural of Mount Fuji in the bathing area.
Today, most houses have private baths and the number of Sentos are in decline. However, many Sentos still exist that are equipped with saunas and jacuzzis which are difficult to experience at home. The etiquettes for Sentos are basically the same as Onsens. Why not try out your neighborhood Sento?