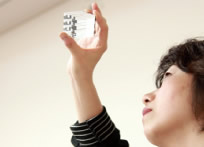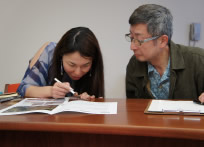 41 items are designated as Traditional Crafts by the Tokyo Metropolitan Government. These crafts flourished in the Edo period and contain the techniques and spirit nurtured throughout the ages. Not a few crafts have needed to find new ways to survive as times have changed. On the other hand, Tokyo's culture and design have gained worldwide attention and the number of Japanese designers interested in traditional crafts has been growing every year.
TOKYO CRAFTS & DESIGN aims to create new traditional craftworks by collaboration between traditional craftsmen who need product ideas that suit modern lifestyles and designers who want to apply their ideas and designs to the crafts. The craftsmen and designers have worked on product development as a team by deepening their knowledge of each other's work. Support was provided by a group of specialists including art directors, museum curators and intellectual property advisors. As a result of this work, our beautiful museum products which will be the "traditional crafts of the future" have been completed. We would be happy if you can feel the new possibilities contained in these traditional craftworks.




Representative Director, Hers Experimental Design Laboratory Inc. / Representative, METAPHYS
Professor, Faculty of Product Design, Kyoto University of Art and Design / Director, Institute Program
Tokyo's traditional crafts have been inherited from the Edo period to the present day. Our initiative aims to establish a model where traditional techniques are not only protected but are led to evolve to fit the modern culture from the designer's viewpoint. We believe that the exchange between craftsmen and designers will create a new chemical reaction. TOKYO CRAFTS & DESIGN initially accepted applications mainly from craftsmen working with Tokyo's designated Traditional Crafts. By publishing the techniques of these craftsmen on the internet, designers could create designs that make use of the techniques.

We also established a period for both craftsmen and designers to better understand by experience the kinds of works that can be created, including visits to workshops of craftsmen looking for partners. Then, prototypes were created according to the design plan in cooperation with craftsmen. The product creation process was further followed to select the products to be exhibited and sold as Tokyo Metropolitan Art Museum original products from October 2012. We hope that with this new business, the combination of the techniques of craftsmen and ideas of designers will start a new movement in Tokyo.