Ceramic-making experience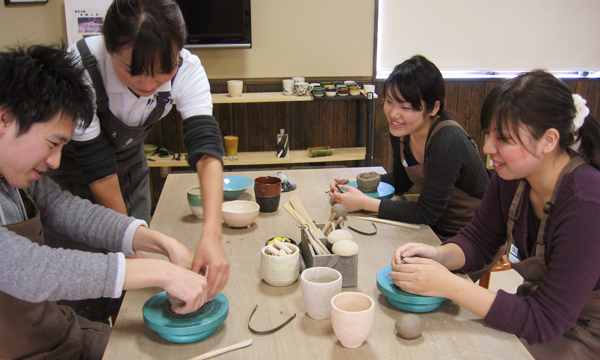 Learn the art of ceramic making at a long-established china shop.
Asahido specializes in Kyoto-ware and kiyomizu-ware, both typical traditional crafts of Kyoto. The shop organizes the Biko Workshop, which runs a variety of courses to choose from, each allowing you to experience creating ceramic cups, bowls, etc.
You will receive proper guidance from the instructors on each course, from basic ceramic making skills onward, meaning even beginners can join in the fun!
---
Trial Information

Fee

:Decorating Course from 2,000 yen per person (For 1 to 12 people)
Hand-Crafting Ceramic Course 3,500 yen per person (For 1 to 12 people)
Electric Potter's Wheel Course 7,000 yen per person (For 1 to 2 people)

Duration

:approx. 40 minutes to 1 hour(

※

Varies depending on the course)
・Decorating Course/ 1 piece: approx 40 minutes [Choose from 5 kinds of foundation and paint using dyed colors (dark blue). The shop will glaze and fire your piece and deliver it to you approximately 1 month later.]
・Hand-Crafting Ceramic Course /1 piece: approx 1 hour [hand-crafted using a 500g of china clay (about the size of a tea ceremony bowl). The shop will dry, fire unglazed pottery, glaze and glost fire your piece and deliver it to you approximately 1 month later.]
・Electric Potter's Wheel Course/2 pieces: approx 1 hour [Using an electric potter's wheel create your own pieces as you wish (on average 4-5 pieces can be made in an hour). The shop will dry, fire unglazed pottery, glaze and glost fire 2 of your pieces and deliver them to you approximately 1 month later.]

Date

:All courses run from Monday to Sunday (everyday)

Time

:10:00~17:00

Capacity

:1 to 12 people (

*

Each course can be taken by one person or more. The maximum capacity is different depending on the course.)

Reservations

:Necessary at least 1 week in advance(

*

Cancellations must be at least 2 days in advance. 50% of the fee will be charged for cancelling on the day)

For Reservations & Inquiries

: 075-531-2181 (Asahido, Biko Workshop)

Location Information

Name

:Asahido, Biko Workshop

Address

web site: