Wagashi Sweet Making Lesson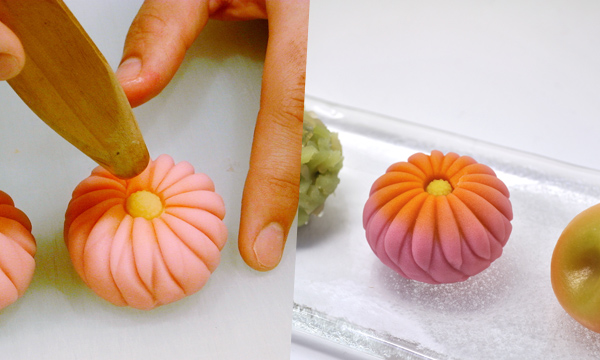 Hand-make Kyoto wagashi sweets that have a seasonal touch.
At a long-established Kyoto wagashi sweet shop "Kanshundo", that has a history of nearly 150 years, you can learn their techniques from a skilled artisan whilst making your own sweets. Summer morning glory, autumnal leaves, etc...every month the sweet changes,
making these unique Kyoto wagashi sweets overflowing with a sense of season. Make 3 kinds of jonamagashi, "uirō" "nerikiri" and "kinton", and one kind of higashi dry confectionary. Enjoy eating the finished sweets with matcha green tea.
---
Information

Fee

:2,000 per person (with 4 kinds of wagashi sweets/matcha green tea)

Duration

:1 hour 15 minutes

Days

:Everyday (apart from December 31 & January 1)

Time

:from 9:15, from 11:00, from 13:00, from 15:00 (3 or more people only possible for 9:15 time slot)

Capacity

: 2 - 80 people

Reservation Time

:reception desk 9:00 - 18:00 (reservation required) 

*

Reserve at least 3 days in advance /dd>

Reservations & Inquiries

:[Kanshundo Higashimise] 075-561-1318  [Kanshundo Saganomise] 075-861-5488

Inquiries
(Non-Japanese only)

:English / Chinese (Traditional) / Chinese (Simplified)


*

Jcrafts will respond to inquiries Monday to Friday, 10:00 to 17:00 (Japan time).


*

Inquiries that arrive on Saturday, Sunday or on national holidays will be answered after the next working day
Also, depending on the inquiry, it may take some time to respond.

Location Information

Name

:Kanshundo Higashimise/Saganomise

Address:

:[Kanshundo Higashimise] Chayamachi 511-1, Kawabata Shomen Higashi-iru, Higashiyama-ku, Kyoto
 [Kanshundo Saganomise] Sagashakadodaimon-cho 1-1, Ukyo-ku, Kyoto

Telephone

:[Kanshundo Higashimise] 075-561-1318  [Kanshundo Saganomise] 075-861-5488

web site: