Kumihimo Braid Lesson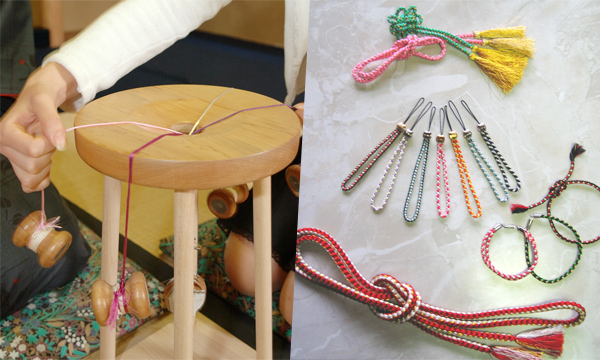 Colorful woven yarns - Kyoto kumihimo braids.
At this historical kumihimo braiding museum many kinds of valuable item, such as assembly stands, documentation, etc., are housed and exhibited. At this kumihimo braiding lesson held in the main building,
there are 4 kinds of course to choose from, including Obijime, Kumihimo Braided Bracelet and Hair Decoration courses. Braid each thread one by one and experience traditional Japanese beauty at your fingertips.
---
Information

Fee

:A Obijime Course 5,000 yen per person
 B Hair Decoration Course 2,500 yen per person
 C Cell Phone Strap 2,000 yen per person
 D Kumihimo Braided Bracelet 2,000 yen per person

Duration

:approx. 1 - 2 hours(

*

differs depending on the course)

Dates

:Every Monday to Friday (Inquire regarding Saturdays, Sundays & holidays. Possible depending on the number of people.)

Time

:9:00 - 16:00

Capacity

:1 - 80

Reservation Period

:reception desk 9:00 - 16:00 (reservation necessary)

*

Reserve at least one week in advance (Consultation necessary in the case of groups)

Comments

:

*

You can take home your finished item with you.

Reservations & Inquiries

:075-432-4113(Adachi Kumihimokan)

Inquiries
(Non-Japanese only)

:English / Chinese (Traditional) / Chinese (Simplified)


*

Jcrafts will respond to inquiries Monday to Friday, 10:00 to 17:00 (Japan time).


*

Inquiries that arrive on Saturday, Sunday or on national holidays will be answered after the next working day.
Also, a response may take some time, depending on the inquiry.

Location Information

Name

:Adachi Kumihimokan

Address

Telephone

:075-432-4113

web site:

:http://www.adachikumihimokan.com

*

Japanese only